HoneyRock Publishing -


Print and Audio Media Resources
for
Percussion Pedagogy
and
Performance since 1992!
Marimba Music

of Thomas Marceau
Order any Marimba titles by Thomas Marceau and receive a free copy of his
CD - Moments: Works for Solo Marimba.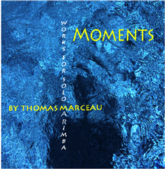 Whats New:
FREE CD's, Special offer: order any sheet music titles by Thomas Marceau or Robert E. Kreutz and receive a complimentary CD of their compositions.
Forthcoming Events:
PAS Italy 2019
The 17th annual Italy Percussion Competition and Festival will be held in September (2019) in Montesilvano-Pescara (Italy). The festival features an international panel of judges and performers and will host students from around the globe.
Greetings!
~
25% Discount - Holiday Sale on all online orders through 12/31/2018
- All titles!
($25.00 minimum order for discounts to apply)
FEATURED NEW TITLES for PERCUSSION



1st place Winner


- 2015 PAS ITALY Composition Contest.
Challenging

Multi-Percussion

Duet.

MORE



2nd place Winner


- 2015 PAS ITALY Composition Contest.
Recital showcase for

Solo Snare Drum

.

MORE




A unique re-working of an old favorite. Coupled with marimba and drum set, the parts for glockenspiel and vibraphone add a new texture to this well-known xylophone solo.

A lively Jazz/Rock mallet trio with a Calypso-type rhythmic feel (ca. 6').
Instrumentation: Vibraphone, Marimba 1 & Marimba 2 (both marimbas,
4 1/3- octave).


Challenging duet for

Vibraphone

and

Marimba

, based on a familiar tune . . . sort of!

MORE

Solo showcase for Hand Drums - one-player, multiple

doumbeks

!

MORE



1st Place Winner


PAS ITALY Composition Contest - 2012
Challenging

Percussion Quartet

full of Intricate rhythmic figures and subtle dynamic nuances.

MORE


Scored for two

Marimbas

,

Percussion

and

Bass

, LATIN LOOKS is an up-tempo rhythm-driven quartet.

MORE



A collection of six easy Ragtime Xylophone solos (1897-1909). With Marimba and/or Piano Accompaniments. This collection gives younger players as well as more experienced players a variety of enjoyable practice and performance options.

Xylophone feature with Concert Band - perennial ragtime favorite!
Accessible Band parts - enjoyable to play
and audience friendly as well.
. . . THERE is a uniquely diverse collection of Percussion Music contained in the pages of this website - pieces in just about any combination of Percussion Instruments you could imagine or want! After 25 years, we like it that way, we value every contribution from an outstanding cadre of composers who hail from the U.S., Europe, Asia and Latin America. Certainly a unity - great percussion music - within a diversity of compositional styles and techniques. There are solos, ensembles, methods and collections appropriate for less-experienced students as well as pieces that will challenge the most accomplished performers. We hope you will take the time to peruse our offerings!
WE want to acknowledge the thousands of performers who have made the titles in our catalog come alive in performance venues across the globe - Thank You for choosing our Composers, our Percussion Music!
THE site can be searched in a variety of ways: click on the COMPOSERS link and you can see the works associated with each composer, or peruse the listings, in alphabetical order, under each category, e.g.: SOLOS, Snare Drum, DUETS, Snare Drum.

. . . HoneyRock