HoneyRock Publishing -


Print and Audio Media Resources
for
Percussion Pedagogy
and
Performance since 1992!
PAS Composition Contest Winners 2010/2011: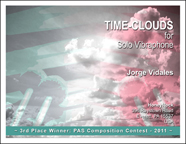 SCENES FOR SUMMERTIME for Solo Vibraphone/Dana Difilippantonio,
2nd place - 2011.
TIME-CLOUDS for Solo Vibraphone/Jorge Vidales, 3rd place - 2011.
Variations and Themes for Four Timpani/Peter Coutsouridis, 3rd place 2010.
PAS Italy - 2015

The 13th annual Italy Percussion Competition and Festival will be held from the 15th to the 20th of September (2015) in Montesilvano-Pescara (Italy).
MORE INFO
Current News:
PAS Italy Composition Contest Winners 2012
Forthcoming 2014: winning compositions from the 2012 ITALY PAS Percussion Composition Contest! Percussion Quartets by Pui-shan Cheung (FIVE METALS), Antonio Ballestin Liarte (HIGHWAY SOUNDSCAPES) and Gianni Giacomazzo (ALLEGRA BARBARA).
Forthcoming Events:
NEW RELEASES 2014
Look for Robert S. Cohen's new title for percussion ensemble: Love Triangles for Percussion Trio.
Greetings!
FEATURED NEW TITLES for PERCUSSION



1st Place Winner

- 2013 PAS Italy Composition Contest.
Challenging concert/recital work for both Vibraphone and Piano.


MORE




2nd place winner

in the PAS Composition Contest 2001! Revised in 2014, this work for

Marimba

and

Saxophone

provides a challenging work-out for both players. Marimba part requires 4 mallets and a 5-octave instrument.

MORE




3rd place winner
- PAS Italy Composition Contest - 2008! Lively duet for Vibraphone and Marimba in a jazz/rock style, great interaction between parts - 4 1/3-octave marimba (ca. 9').

MORE

A great recital suite for solo

Marimba

.
- intermediate/advanced performer - technically challenging, yet audience friendly! requires a 5-octave marimba - ca. 11'. 

MORE


Festive collection of eight titles for the holiday season. The arrangements in this collection are all part of a genre known as VILLANCICO.
Arranged fo

3 players

on one
4 1/3-octave marimba.

MORE

This unique collection of nine titles features corridos of the Mexican Revolution (1910-1920). They have been adapted from this vocal repertoire for

3 players

on one 4-octave marimba.

MORE



A challenging

Marimba

solo, suitable for an advanced level recital program.
5-octave marimba.

MORE

An accessible five-movement suite for the intermediate to advanced level

Marimba

soloist.

MORE



1st Place Winner


Quey Percussion Duo Composition Contest - 2012


Vibraphone

and

Marimba


Michael Taylor

MORE



2nd Place Winner


Quey Percussion Duo Composition Contest
- 2012


Vibraphone

and

Marimba


João Pedro Oliveira

MORE


A great

Marimba

Duet

for advanced performers - technically challenging, rhythmically complex with a variety of textures! Alexander Elliot Miller

MORE


A collection of six catchy titles arranged for

Marimba Quartet

- 4 players on one instrument! Based on Jarocho music of the
Vera Cruz region of Mexico.
arr. Terry L. Baldridge

MORE





MARIMBA MUSIC
of Mexico and Central America
A collection of ten titles for Marimba Trio. arr. Terry L. Baldridge




Marimba Magic - 24 Duets for ONE Marimba Collection of Duets in a variety of musical styles - for beginning to intermediate level performers. Denis Stilke


Scored for

4 players

, this ensemble can be played on four concert snare drums, or a combination of "military" or marching snare drums. Sperie Karas

MORE

Suite for

Two Drumsets

-
three movements, jazz/swing and rock.
Sperie Karas

MORE

. . . THERE is a uniquely diverse collection of Percussion Music contained in the pages of this website - pieces in just about any combination of Percussion Instruments you could imagine or want! After 20 years, we like it that way, we value every contribution from an outstanding cadre of composers who hail from the U.S., Europe, Asia and Latin America. Certainly a unity - great percussion music - within a diversity of compositional styles and techniques. There are solos, ensembles, methods and collections appropriate for less-experienced students as well as pieces that will challenge the most accomplished performers. We hope you will take the time to peruse our offerings!
WE want to acknowledge the thousands of performers who have made the titles in our catalog come alive in performance venues across the globe - Thank You for choosing our Composers, our Percussion Music!
THE site can be searched in a variety of ways: click on the COMPOSERS link and you can see the works associated with each composer, or peruse the listings, in alphabetical order, under each category, e.g.: SOLOS, Snare Drum, DUETS, Snare Drum.

. . . HoneyRock